Our Family
THE FACE Family
The faces of the organization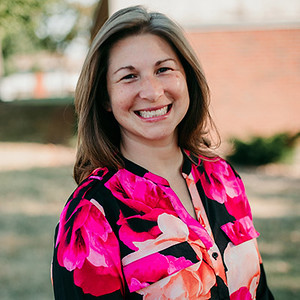 Adielle Ehret, MA, LPC
FACE Executive Director
Adielle was born and raised in Boone County, Missouri and has a strong desire to give back to a community that has offered her own family decades of opportunity and support.  She is a Licensed Professional Counselor who specializes in evidenced-based trauma therapies for children, youth and adults. Her educational background includes a bachelor's degree in psychology from Evangel University (Springfield, MO) and a master's degree in Guidance & Counseling from the University of Missouri-Kansas City.  She has passionately supported homeless youth and families in crisis for over 12 years, and has dedicated her professional life to social initiatives that help others realize their resiliency and strength, increase community awareness regarding human trafficking, educate parents, and connect youth and families with appropriate mental health and community services.
Samantha Myers, LCSW
FACE Clinical Case Supervisor
Samantha is a Licensed Masters Social Worker and loves working with and helping children and families overcome challenges while reaching goals. She received her Bachelor's in Psychology and Master's of Social Work at Mizzou. Samantha's background includes several years working as an Outreach Counselor for Columbia Public Schools and doing case management for the Department of Social Services in both Kansas City and Columbia. She has vast experience conducting individual and group therapy, conflict mediation, case management and working with various systems to promote the emotional, behavioral and academic success of children and their families. Samantha loves spending time with her family and camping in the mountains.
Terry Pipes, M.Ed
FACE OUTREACH COORDINATOR
Terry is a retired public and private school teacher who enjoys working with children and families.  Her commitment to the value of education is a constant message of encouragement and success.  She strongly believes in service to others and the fellowship of all human beings through her interactions and support of FACE.  In her spare time she enjoys reading, traveling, zumba, and spending time with her family.
ShaVon Walls
FACE
OUTREACH COORDINATOR
ShaVon has over 20 years of experience as a medical office support specialist. Her main focus has always been with pediatrics, due to her love of children. She truly enjoys working with children and their families. She believes that knowledge is the key to success. In her spare time, she enjoys spending time with her family, traveling, reading, watching football with her husband, and walking.
Tara Jennings
Office Manager/ Community outreach supervisor
Tara has several years of experience working with nonprofit agencies. In her previous job, she helped start the Community Partnership Program which helped develop and improve city and county resources for low income, disabled, and homeless residents. The partnership also started the backpack program in their public schools. Tara was also responsible for communication and scheduling for the Economic Security Corporation during the Joplin, MO tornado in 2011. She has a genuine passion and skillset for creating organization and positivity in the workplace, and believes this is the key to success. When she is not at FACE, Tara can be found spending time with her family, gardening, hiking, or tailgating at Chiefs games.
Aaron M. Thompson, PhD
FACE Principal Investigator and Evaluation Consultant
Aaron completed his PhD in Social Work at the University of North Carolina at Chapel Hill. Prior to this, Aaron worked as a counselor and special educator in a juvenile detention facility, as an evaluation specialist in a clinical setting, and as a school social worker and principal in a public school setting. Currently, Aaron is an Assistant Professor in the School of Social Work at the University of Missouri. Aaron is the developer of The Self-Management Training and Regulation Strategy (STARS) and his research interests include the origins of mental and behavioral health issues among youth, training for school-based mental health service providers, and the development and evaluation of early prevention and intervention efforts to improve school readiness and reduce disruptive and aggressive behaviors for high risk children.
Wendy Reinke, PhD
FACE Co-Principal Investigator and Evaluation Consultant
Wendy completed her doctoral training in school psychology at the University of Oregon and is currently an Associate Professor in School Psychology at the University of Missouri. She teaches classes on prevention of emotional and behavioral disturbances in children, public health perspectives, research design, and evidence-based practices for children with emotional disturbances. Prior to coming to MU, she was a Prevention Science Fellow at Johns Hopkins School of Public Health. Her research focuses on preventing disruptive behavior problems in children. Dr. Reinke is also an expert in teacher consultation models in classroom management and is the developer of the Classroom Check-Up. She is the co-author of two books on the topic of teacher consultation, including one with Randy Sprick and Jim Knight entitled Coaching Classroom Management and another with Keith Herman and Randy Sprick entitled Motivational Interviewing for Effective Classroom Management: The Classroom Check-up.
Keith C. Herman, PhD
FACE Co-Principal Investigator and Training Consultant
Keith is a Professor in the Department of Educational, School, & Counseling Psychology at the University of Missouri. Dr. Herman primarily teaches doctoral coursework in the areas of parent behavior management, developmental psychopathology, and research design. Originally trained as a counseling psychologist at the University of Florida, Dr. Herman retrained in school psychology at the University of Oregon and also completed postdoctoral fellowships at Brown University and Johns Hopkins University. Before joining the department at Mizzou, he was a faculty member in the School of Medicine at Johns Hopkins University. His research takes a prevention science approach to understanding, preventing, and treating child depression. He has developed a conceptual model describing social developmental pathways to child depression with emphasis on modifiable aspects of schooling and parenting that contribute to children's risk. This model has informed the development of school and family interventions for children who are depressed.
Kristin Hawley, PhD
FACE Co-Principal Investigator and Training Consultant
Kristin's passion is helping clinicians provide the best possible care for the children, youth and families they serve. She received her bachelor's degree from the University of Missouri-Columbia and her Ph.D. from the University of California-Los Angeles, with a focus on clinical child and adolescent psychology. Her background and expertise include community-based mental health; evidence-based therapies for anxiety, mood, trauma and behavior related concerns; clinician training, support and feedback; and practice-based, translational research. She is currently an associate professor within the Psychological Sciences Department at the University of Missouri. Her role within FACE is focused on technical assistance, supporting clinicians and agencies in their implementation of effective mental health services and supports for children, youth and families.
Clark Peters, PhD, JD
FACE Co-Investigator and Legal Consultant
Clark Peters, PhD, MSW, JD, is an associate professor at the University of Missouri School of Social Work and Truman School of Public Affairs, focusing his work primarily on child welfare, adolescents in state care, and juvenile justice. He is also is a Policy Fellow at the Institute of Public Policy, holds a courtesy appointment at the University of Missouri School of Law, and is a Faculty Director of Youth Development at the Center for Social Development at Washington University is St. Louis. As a Skadden Fellow at the Youth Law Center in San Francisco, he represented youth in the child welfare and juvenile justice systems in civil rights actions. He has presented, taught, and written widely on issues of juvenile justice, foster care, and child welfare. His current research work focuses on youths in foster care, financial capability, asset building, and youth engagement, and appears in Social Work, the Missouri Law Review, Journal of Public Child Welfare, and the Children and Youth Services Review.